Inhaling Coal Dust Every Day, Residents of Panjang Bandar Lampung Complain of Coughing and Shortness of Breath
Jumat, 20 Oktober 2023 - 10.23 WIB
32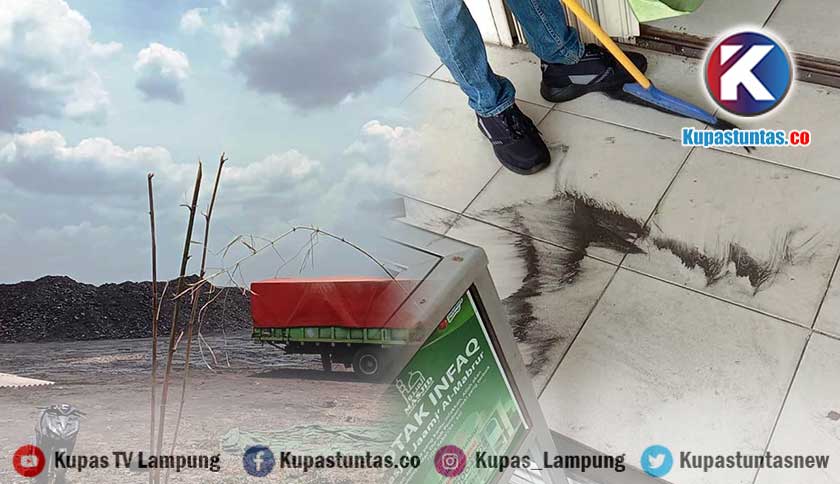 ADMIN
Kupastuntas.co, Bandar Lampung - Residents in Bandar Lampung Indonesia are still complaining about air pollution coming from a number of coal stockpiles. Every day residents are forced to breathe coal dust that enters residential areas.

Coal dust pollution from a number of stockpiles in Bandar Lampung still continues to occur. The El Nino phenomenon results in a long dry season and strong winds, causing coal dust to fly into residential areas.
Residents in Way Lunik Village, Panjang District, Bandar Lampung, complained about dust pollution originating from coal stockpiles in the local area. Every day residents have to clean the floors of their houses from coal dust carried by the wind.
According to Kupastuntas.co's observations at the location, coal dust littered the floors of residents' houses and even the terraces of minimarkets. The minimarket parking attendant in Way Lunik, Supriyadi, said that the dust came from several coal stockpiles in the Way Lunik area.
"There are several coal stockpiles here, bro. There are lots of coal stockpiles around here. One of them is owned by the company GML (Global Mahardika Logistik)," said Supriyadi, Thursday (19/10/2023).
Supriyadi said that during the long dry season like now, strong winds blow, resulting in more coal dust entering people's homes and business premises.
"Every few hours you have to sweep it continuously because it is dirty with coal dust. You can see that it is already black," said Supriyadi while showing the minimarket floor which was littered with coal dust.
He said, every day you have to wear a mask, especially when going outside or doing activities outside the home. This is done because coal dust flies everywhere in the wind.
"If you don't wear a mask, you're afraid of the dust. You're afraid it will threaten your health too. Because there are already several residents who are coughing, perhaps because they often inhale coal dust," he said.
He hopes that the regional government can follow up on complaints from residents who are concerned about coal stockpile dust pollution. "We hope that the government can follow up on this problem, because coal dust is very dangerous for health," he added.
Sutartih, the owner of a food stall in Way Lunik also complained about coal dust flying everywhere and entering his house and business premises.
"Yes, coal dust blown by the wind sticks to all the merchandise. Coal dust has been scattered more and more since this long dry season. It must be cleaned regularly, especially in this dry season, the dust is scattered everywhere because of the strong winds," he said.
Another resident, Rosit, also complained about the amount of coal dust entering his house. As a result, the floor of his house turned black because of the coal dust.
"The dust has been bad for two weeks now. The floor of my house is black because coal dust has come in. Even though it has just been mopped, it won't be long before it turns black again. Because the wind is strong, a lot of coal dust has entered the house," he said.
He said that coal dust entering the house was very dangerous for small children, especially babies. "There are also people who are coughing and short of breath because of this coal dust. I would like an effort from companies that have coal stockpiles to prevent this dust from flying far away. "So it doesn't disturb residents," he said.
The location of this company's coal stockpile is not far from residential areas. The distance is less than one kilometer. Even though containment nets have been made, a lot of coal dust still enters people's homes.
Yusuf, another resident in Way Lunik Village, said that there are many negative impacts caused by the existence of coal stockpiles, especially on health and the environment. He hopes that the coal stockpile in Way Lunik will now be closed.
Yusuf revealed that installing nets to anticipate the impact of dust from coal stockpiles did not have maximum function and effect. Because coal dust still enters people's homes.
"So, if possible, just close it if it only makes residents uneasy, continuing to only prioritize certain groups. Meanwhile, the community is the one who feels the impact," he said.
Yusuf said that if the coal stockpile did not cause dust pollution, local residents would not have a problem with it. And as long as it doesn't disturb or threaten public health.
Agus, other residents questioned the performance of the relevant parties involved in monitoring the coal stockpile, both from the Environmental Service (DLH) and the Bandar Lampung Regional People's Representative Assembly (DPRD).
"DLH and DPRD must have a commitment to overcome the problems caused by the existence of this coal stockpile. If that is not possible, then the residents will take action," he stressed.
Agus said, according to regulations, coal storage must be at least 1 kilometer from residential areas. But in reality, now it is in the middle of a residential area.
"This is actually permitted in the middle of residential areas, and why until today there has been no action taken by DLH and DPRD. This is what makes me concerned. There must be concrete steps to overcome this problem," he said. (*)
This news was published in the Friday 20 October 2023 edition of Kupas Tuntas daily Newspaper with the title "Residents Breathe Coal Dust Every Day"