Selection of Candidates for Directors of Two Regional Business Entities Owned by Lampung Provincial Government Officially Opened
Senin, 18 September 2023 - 18.16 WIB
20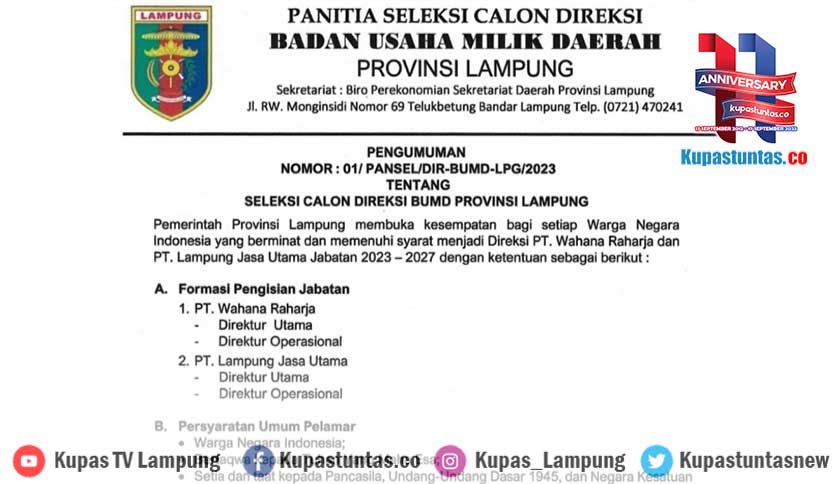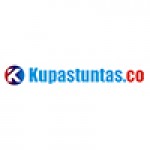 Redaksi
Kupastuntas.co, Lampung English - The Lampung Provincial Government officially announced the selection of candidates for directors of two regionally owned enterprises (BUMD) of the Lampung Provincial Government, namely PT Wahana Raharja and PT Lampung Jasa Utama.

The director positions included in the selection are the positions of President Director and Operations Director with a term of office 2023-2027.
The announcement of the selection of the two BUMDs was contained in the announcement Number: 01/PANSEL/DIR-BUMD-LPG/2023b concerning the selection of candidates for BUMD directors in Lampung Province.
Chairman of the BUMD Selection Committee, Kusnardi, said that the filling in of directors was carried out because for a long time the two Lampung Provincial Government BUMDs had only been led by commissioners.
"So far, BUMDs have only been led by commissioners, even though the commissioners should be tasked with supervising the directors. So we are opening this with the hope that it can be filled soon," he said when asked for information, Monday 18 September 2023.
He hopes that the prospective directors who will be elected will be able to make the Lampung Provincial Government BUMD better. Apart from that, you can also donate dividends to the Lampung Provincial Government.
"This year there will be no capital participation for the two BUMDs. So we hope to get competent people so they can carry out their duties and can support the regional government by providing dividends," he said.
The announcement explains that registration starts on the 19th every working day from 08.00 to 15.00 WIB and closes on September 21 2023 at 11.00 WIB.
Administrative selection dates from 21 to 22 September 2023. Next, the results of the administrative selection will be determined on September 22 2023.
Announcement of administrative selection results on September 22, implementation of the fit and proper test from September 25 to 26 2023.
Determination of fit and proper test results September 27 2023, submission of names of prospective directors September 27 2023.
Interview of prospective directors by shareholders or appointees 28 September 2023, determination of selected directors candidates 29 September and announcement of the results of the selection of prospective directors 29 September 2023.
Each participant is expected to be able to prepare papers and presentations on business plans and strategies for BUMD development. Where the paper must be original or your own work
Participants who pass the administrative selection will be asked to present the paper in a series of fit and proper tests by a team appointed by the selection committee.
Presentation materials are made in power point format of five to seven pages. Information about BUMD as material for preparing business plan and strategy papers can be downloaded on the official Lampung Provincial Government website. (*)