Police Arrest Four Dangerous Drug Dealers in Metro Lampung
Kamis, 16 Maret 2023 - 18.00 WIB
23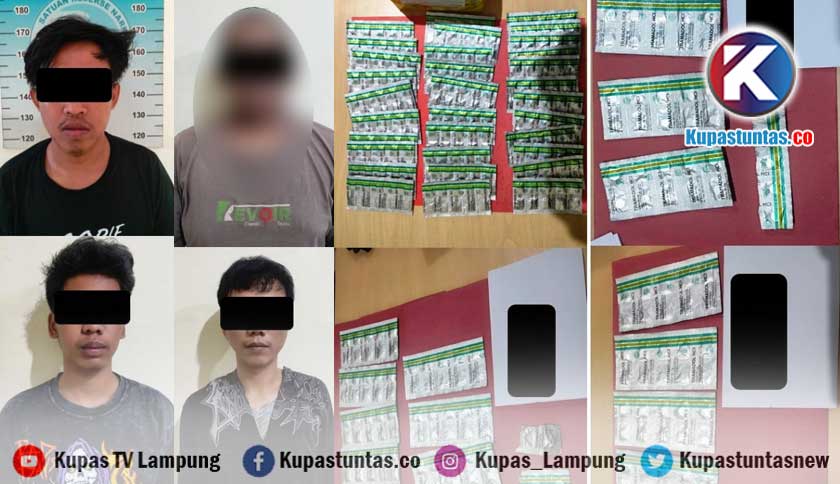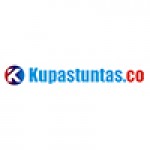 Redaksi
Kupastuntas.co, Metro - The Metro Police Narcotics Investigation Unit, Polda Lampung has again dismantled a syndicate of dangerous drug dealers. Four dealers, one of whom is a student at the State Vocational High School in Metro, were arrested.

From the information compiled by Kupastuntas.co, during the arrest the police managed to confiscate 511 items of the dangerous drug type Tramadol HCI 50 mg which the four suspects kept in four different places in Metro City.
The four suspects come from two different networks, three suspects are one network while the other is moving dangerous bat alone.
The suspects are 24-year-old Boby Hermansyah, a resident of Jalan Jambu Bol, Yosomulyo Village, Central Metro District. He is a dangerous drug dealer who plays alone without recruiting other networks.
Then, the police arrested Dony Andika Wijaya, a 26-year-old resident of Jalan Diponegoro, West Hadimulyo Village, Central Metro District. He distributed dangerous drugs with his accomplice, namely Arjuna Pratama, a 19-year-old resident of Jalan Sumbawa I, Gang Lele RT 045 RW 10, Ganjar Asri Village, Metro Barat District.
The network's activities were also strengthened by a grade 12 student at a high school in Metro City who also became a dealer. He is DN 18 years old.
Kapolres Metro, AKBP Heri Sulistyo Nugroho, through IPTU Narcotics Head AE Siregar, revealed that the Obaya dealers were arrested in a number of places where they lived.
"First we secured the suspect Boby Hermansyah in a boarding house called Villa De Kost on Jalan Tawes on Wednesday 15 March 2023 around 11.00 WIB," he said Kupastuntas.co, Thursday 16 March 2023.
From the hands of the suspects, the police found evidence of 320 dangerous drugs. he kept the dangerous drug in a cardboard box used for online shopping.
"In the boarding house, 320 Tramadol items were found. Based on Boby's confession, he got the Tramadol from buying online at the online shopping application Shopee for IDR 30,000 per plate containing 10 items," he said.
Furthermore, Dony's network was also arrested in a rented house on Jalan Pala, Iringmulyo Village, East Metro District on Wednesday the same day at 05.00 PM.
"From the suspect Dony, we found Tramadol plates containing 10 items each and 1 plate containing 5 items. A total of 45 Tramadol items," he said.
During the development, Dony admitted that he launched his action in distributing Tramadol with Arjuna Pratama. Then the suspect Arjuna was arrested at 08.00 PM.
"From Arjuna, we found 5 Tramadol plates, each containing 10 tablets, so a total of 50 items. We arrested this suspect on Jalan Nias, Ganjar Asri Village, West Metro District," he explained.
Lastly, the Police arrested a student at the Metro who was a network of Dony and Arjuna. The student is DN, he was arrested at 20.10 WIB in a house.
"We secured the DN suspect from a house in West Metro District. There we found 9 Tramadol plates containing 10 tablets and 1 plate containing 6 tablets. So a total of 96 tablets," he explained.
To the police, these dangerous drug dealers confessed to distributing the drug to teenagers in the local city. They sell it for IDR 60,000 per plate or retail for IDR 6,000 per plate.
"From their confessions, they only sold these dangerous drugs to teenagers and their hangout friends. They bought them through the online shopping application Shopee. The three suspects bought them by way of contributions and then distributed the dangerous drugs, Boby's own network also bought them himself. online," he explained.
"They buy each plate for Rp. 30,000, and sell for Rp. 60,000 per plate. The amount purchased is still being investigated, what we found is evidence of residual sales," he stated.
Now the suspects and their evidence are being held at the Metro Police Headquarters. The police are also still carrying out developments related to other networks in Metro City. Apart from that, the Metro Police Satnarkoba are also still hunting for a co-conspirator named Ronal who is now on the wanted list.
The suspects are threatened with articles 197, 197 and 198 of Law number 36 of 2009 concerning Health which carry a maximum penalty of 15 years in prison or a fine of IDR 1.5 billion. (*)
KUPAS TV Video: Lampung High Prosecutor's Office Searches the House of a Corruption Suspect for Garbage Retribution